Exploring the Pacific Northwest
I LOVE living in the Pacific Northwest. There are so many fun, low-cost activities to do here. We live in this amazing place where I can drive an hour and get to the Pacific Ocean, an hour west and reach the city or some beautiful island communities, 30 minutes south and we can be on mountain tops and 10 minutes north is a Strait of water that flows between the US and Canada.  WOW!
We have hundreds of options for connecting with nature or city life. However, in general we avoid the city. We have been spoiled by not having to deal with traffic. We love a slower paced life.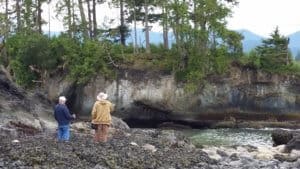 Here are a few low cost activities we love to do throughout the spring and summer. There are MANY more, but we do these many times throughout the year.
Camping
We have just started camping in the last couple years as a family. It is a relatively cheap way to go on an adventure. We bring the kids bikes and they love to explore through the campground. We love having a campfire going, making foil meals for dinner and toasting marshmallows for smores.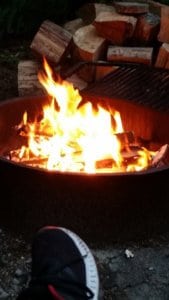 We are tent campers. Though I wouldn't mind the convenience of a small camper, I figure if you get too fancy than what is the point? It is suppose to involve smelling like smoke, curling up in a sleeping bag and a lack of technology. It's about learning to cook over a fire and being in nature.  Though I do like my tent. I am not such an outdoors girl that I want to sleep under the stars and wake up to something crawling on my face. Yeah, no thank you.
There are many beautiful and well-kept campsites in the Pacific Northwest. Though I am a big fan of flush toilets, there are also many sites where you can rough it under the stars.
Tide Pools
We LOVE tide pools. Salt Creek is a place we love to go and explore often. We found a wonderful identification guide and it is just what we needed.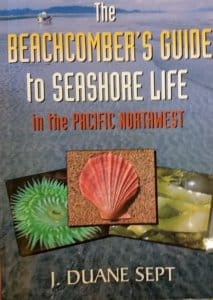 When we go down to the tide pools we take some plastic containers and collect little critters. I faithfully enforce three rules 1) Be gentle to the creatures. If they are stuck to something don't force them off. Also, watch where you are walking so you don't crush the poor things. 2) Always keep water in you bucket (and refresh it every once in a while) and 3) Always return the creatures to their homes.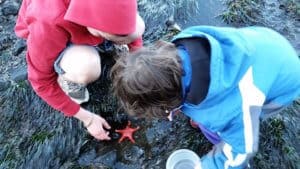 The kids and I learned that the real trick to finding creatures is to carefully overturn rocks. Shore crabs are prevalent under the rocks where the tide has receded.
If you overturn rocks where water is you can sometimes find starfish and other fascinating critters. In the places where deeper water is you can find urchins and lots of anemone. Last time we took up a plant collection and when we got back to camp we identified each type of seaweed and creature we found using our identification guide.
Visit the Beach
Yes, the tide pools are at a beach but I am referring to sandy beaches. My kids favorite activities at the beach are building sand castles and wave chasing. However, my favorite activity is in a chair reading a good book while watching them have fun.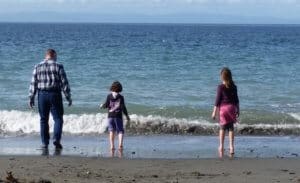 Hiking and Exploring
I can't say I am big on hiking but I do like a relatively simple hike that is easier on my poor knees. Sometimes The Carpenter and the kids go on more adventurous hikes. We love finding the river to throw rocks in (I will never understand why people love to throw rocks in the water. I enjoy it too…why is that? ) I absolutely love walking among trees with the sunlight coming through the canopy. So beautiful.
Of course, the teacher in me loves identifying plants on the way…One of our frequent stops is the local Audubon center.
Foraging
My oldest daughter is fascinated with foraging. It started when we got her a rabbit and I wanted to find out how we could provide the rabbit greens without buying them all the time. Now my girl forages for the rabbit every morning.
We have a guide to plants and animals in the pacific northwest that my daughter just loves to read. She will often say "Mom, you know what that is? Did you know that it is eatable?" Or she will spout some other kind of information about the plant. I put most of those plants on my "I will eat it if I am desperate" list. However, it is good information to have handy in an emergency. We have so many readily available plants that flourish in the wild here in the Pacific Northwest that are eatable. It really is quite fascinating. Though when I see my kids walking around eating "weeds" I have to laugh.
Local Logging Show
I love to visit local festivals.  Visiting local events give you a sense of the community and you get to explore new ideas. There are many fun Festivals throughout the Pacific Northwest. One of our local festivals is the Irrigation Festival. It is a week of activities that celebrates the initiation, development and support of the irrigation ditches which brought water to the once dry prairies of Sequim.
In conjunction with the other activities they have a Logging Show. This is just simple country fun. Log cutting races, chainsaw carving, tractor pulls all take place while the American Flag flies proud and high above it all.
At the logging show you can also meet the Irrigation Festival Royalty. Instead of fancy dresses the girls wear jeans, flannel and suspenders. That is my kind of royalty.
The chainsaw carvings were amazing. They auction them off on the last day of the festival.
And of course boys must be boys and take a souvenir with them…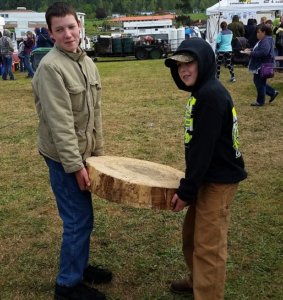 Farmer's Market
Local farmer's markets are amazing. You get beautiful produce from local people that have a deep love for their community and for growing food. Our farmer's market has music and a variety of booths. There are locally grown flowers, fruits and vegetables and artisans.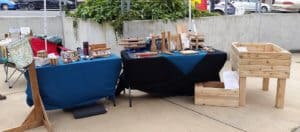 We have recently been part of the farmers market as a vendor. In the process I have gotten to know a few of my fellow vendors. I have gleaned some fabulous information that has been really helpful in my gardening adventures. We also found a source for wonderful honey and beeswax. Farmers are passionate about what they do and are more than willing to share their knowledge.
Fruit and Vegetable Gleaning
Our area has a gleaning group through the local WSU extension. Sometimes local farms have an excess of vegetables or when someone in the community doesn't want the produce off of a tree they contact the WSU office. The extention office then contacts the gleaners and we go to the house and glean the produce available. We are encouraged to share that produce with the local food bank but sometimes (like plum and apple season) the food bank is inundated with produce so we use it for personal use. This is how we have gotten all of our apples for cider and applesauce for the past several years. 
If there isn't a local gleaning group in your area than you can contact your friends, neighbors or post your interest on social media. Just let people know you are willing to glean produce that others don't want. We go into these situations with two very important things in mind: 1) Always ask the owner if they would like some picked for them. In many situations they are not physically able to pick and 2) Always leave it in better condition than it was when you came. Most of the time that just includes putting any rotted or undesirable fruit in a pile so they can easily dispose of it later.
Well, there you go. LOTS of outdoor fun to embrace. What you your favorite local activities? Please share in the comments.
Happy Exploring, 
The Frabjus Lady
Join Our Adventure and sign up for our Newsletter.
When you do you receive a 10% discount off our first order from our store.