As of 11/01/2019 We no longer carry either Lawn Dice or Lawn Dominoes. Please see our other toys and games in the store
Lawn Games: Having Fun in the Sun
Laughing, joyful conversation and games in the sunshine… can't get much better than that!  I love watching people enjoy outdoor games. All that sunshine should be enjoyed and treasured.
Adding giant lawn games to your get together makes it even more fun!
Last summer I had a garden party to celebrate my birthday. I LOVE having people around to hang out with. I didn't want to try to organize any kind of group game but I did want to have games available for smaller groups to play on their own. So, we created some large lawn dice and throughout the party people played Yahtzee. It was so much fun! Everyone loved the huge dice and we still use them.
People love the whimsy of over sized dice and domines. When we have a booth at a fair or at the local farmer's market people always have to pick of the huge dice, smile  and show them to whomever is with them.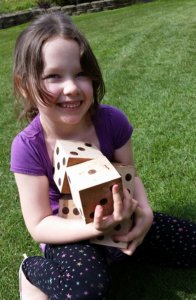 The kids are always pulling them out. They use the games we have in the booklet but they also just roll them to see who can roll the highest number. It is a great way to get them to also use those math skills. The teacher in me LOVES that.
Because summer is here (and we love our own super size dice and dominoes) we decided that a couple lawn games would be a fun and whimsical addition to our store.
Giant Lawn Games by Lady and the Carpenter
Our over-sized lawn dice are made of solid maple. Each pip (that's the name of the dots on the dice) is burned into the wood and each dice is then covered in Danish Oil to help protect from the weather. Each set comes in a drawstring muslin bag for easy storage and a booklet of 3-5 game instructions. Yatchzee scoring sheet can be found here
Our Outdoor Domino Set is a perfect match when you want some engaging group play. Our 28 piece, Double-Six set is fun for all ages. This set can be used for some over-sized indoor or outdoor fun. With a full Double-Six you can play any of the games described in our "10 Best Domino Games for kids" Blog.  We also include 5 Game instructions with each Domino Set.
Each Domino Piece is solid maple 1/2  inch thick. Each pip is burned into the wood and then each piece is finished with a coating of Danish Oil . Each set comes in a drawstring muslin bag for easy storage and a booklet of 5 game instructions.
We have added quite a few new products to the store this Spring and Summer! Come see all the new additions HERE