Kevin's Quality Clothespins

Beautiful, Sturdy,  Traditional-Style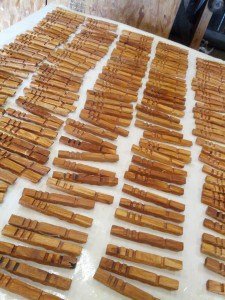 Why buy Kevin's Quality Clothespins?
1) They are Made in America!
Kevin's Quality Clothespins are proudly labeled: Made in America! The springs in Kevin's Quality Clothespins come from an American Manufacturer. Our maple is supplied by a local company.  That wood is then handcrafted by The Screwy Carpenter and they are assembled here in the Pacific Northwest.  
These Classic American style clothespins conform to the traditional style pins first developed by Solomon Moore back in 1887 (also American), but also are an improvement over the old clothespins.
2) Not Your Ordinary Spring
A clothespin is worthless without a great spring. Kevin's Quality Clothespins are made with a heavier gauge of wire then that of the imported clothespin (see above) and it is a fully-wound spring. The springs are made of stainless steel and will never rust.
3) They hold up in heavy winds. 
Perfect for camping, perfect for natural disaster and prepping. The first video is one we filmed. The Tornado Video was filmed by one of our customers. You may be in disbelief at these videos until you feel our pins in your hand. The weight, the spring, the size all combine to feel sturdy but not bulky, strong but not a struggle to operate.
4) They are Crafted out of Hardwood
Kevin's Quality Clothespins are made from maple. This hardwood is enduring, has an even light-colored grain, and does not bleed tannin stains onto clothing. Our finished clothespins are coated with Linseed Oil before being assembled to help them resist weathering.
 Will the Oil get on my clothing? We have completed several tests using wet, white fabrics and letting them dry over night. The Linseed Oil is soaked into the wood and does not leach out onto fabrics. We also have had a separate company do this same test with the same results.
5) Size and Wide opening
Here is a picture of one of Kevin's Quality Clothespin next to an imported clothespin. As you can see our clothespins are much more substantial than the imported pin. The total length of the pin is 3-1/2 inches and the wood is cut thicker. The angles of the cuts, the thickness and length come together to make a heavy-duty clothespin.
Our clothespin can also be used on a clothes-rod. They open wide and will fit over a 1/2″ dowel.
6) Gripping Grooves
Also, notice that each of our pins have grooves cut into the end to help the user easily grip the pin when using. This is a useful feature but also adds to its beauty.  Another difference is that the gripping ends are further apart than on the old-style or imported clothespins. This makes it easier for those who don't have a lot of finger strength to operate the clothespins.
7) Lifetime Product Guarantee:
If one of your Kevin's Quality Clothespin should break due to normal wear or manufacturing defect, return the parts (wood and spring) to us and we will return to you a new clothespin to replace the malfunctioning one. Have you ever heard of any company offering a guarantee on a wooden clothespin?
8) Buy American support Americans
It is not just my family you are helping. The spring company employs many people. The wood mill employs many people. The sticker company employs many people. It is a beautiful circle of mutual cooperation and respect. 
9) Buy it for life 
There is a gentle uprising of ideals that understands we were not built to just consume and throw away. However you phrase it is fine, it is the idea of taking care of that which was given to us and setting the next generation up for success.
10) Wow Factor
Ever had the object that just worked as advertised with no muss or fuss. The one you came to rely on without making a conscience decision. Based on four years of feedback and reviews from all around the globe I strongly believe we will be one of those products for you.
Kevin's Quality Clothespins
As you can see from the above, Kevin's Quality Clothespins are not your everyday clothespin. This is a clothespin that will outlast and outperform any of the cheap alternatives available. These heavy duty clothespin are made to be put out on the line, and to be loved for their wonderful practicality. We carefully craft our clothespins in the hope they will be handed down to the next generation. Our clothespins, though wonderful, do not have super powers so please read…Kevin's Quality Clothespins Disclaimer.