Recycled Milk Jugs??
Recycling is one of those things that is important to our house and lifestyle. With three kids and two adults it is amazing the amount of trash that is generated on a weekly basis. We do what we can to reduce the volume by separating the paper/cardboard for the occasional burn pile. The metal cans and plastic bottles are rinsed and recycled into the collection containers
If you have read the story of our business, the wood we use is leftover's and the sawdust we generate is also reused for animal bedding. I am always on the lookout for new product ideas that incorporate the recycle idea with a simple product that makes a significant daily improvement for everyone.
Last week I was doing the usual walk around the property and cleaning up the kids and dogs debris when I noticed the LARGE pile of milk jugs. We drink four to five gallons of milk a week, some of that is raw Jersey milk from a local dairy. I only noticed the pile because The Lady had broken her ankle on the snow so the recycling never got delivered as she usually does. Come to find out there is a small community of people that are turning the milk jugs into usable products. This was right up my alley.
  First step is to rinse and remove the labels, cap and plastic ring. Then we cut them into small chunks. I was hoping the blender would make small pellets but that idea did not work. So we put the small chunks directly into a toaster at 350 degrees.
The plastic goes transparent and turns into a semi gooey state that resembles gummy bear material. I was able to squish it into a mound and then add more chunks. It is amazing how many jugs it takes to make a small block. After we got enough volume to fill the mold. I used parchment paper to keep the plastic from sticking and used the clamps to push out as much air as possible.
It takes awhile for the temperature to drop. As it drops the color returns to the plastic. When the block is cool I am able to use the woodworking tools to machine it into the mortar and pestle.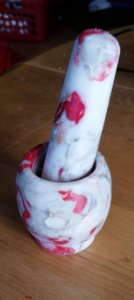 The mortar and pestle was a fun project. It is not something that I could see turning into production runs for retail sales.
If you would like a custom made item please send us a email with the details.
Would love to know what things are important to you. What crazy ideas are you hoping to achieve?
Thanks for joining us on this crazy adventure.
–Kevin