Since any kind of outside work has been on hold the Carpenter due to our crazy amount of snowy weather. The Carpenter has been able to focus on a new project. He has been making a Rope Making Machine for a Boy Scout group in Ohio. Here is a picture of the first finished machine:
The rope machine has several components.
The main gears with handle to turn them
The hooks to hold the separate strands and twist them in the same direction
The stand and handle to hold it steady to a surface
The Receiving hook accessory to hold the opposing side of the rope you are making
The Strand Separator. This keeps the 3 strands from tangling while making rope
It has been a fun but challenging project. Getting the gears to work smoothly is the biggest challenge.  (But more about that soon)
He used plans purchased from Martin Korson for a starting point. The final project has a few variations from the original design.The first machine was completed using the provided templates and cutting them out. This didn't work out so well.
He quickly learned that absolute precision on the gears was necessary for a smooth movement. The machine works off all three gears running smoothly. So, if one is off it gums up the whole operation. To fix the problem, he used a dial micrometer to precisely measure each gear to create 3 matching gears. The large gear also needed each tooth precisely created. The gears spin on the small metal post and the micrometer measures the height of each tooth.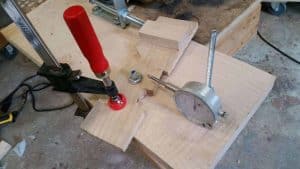 If you have been following us for a while you know that giving is something we do as a family. During harvesting season we glean in the fields for the food banks, we love to do Operation Christmas Child boxes, and the Carpenter uses his mad skills to help others. The finished rope machine is heading here soon to Ohio to educate young boys about rope making. Its fun to think of young hands cranking the wooden gears, watching them turn as they make rope for their projects.
Below you can watch a video of how the machine works. We used some basic gardening twine for our rope. You need 3 people when rope making; one person to turn the gears, one person to guide the strand separator and one person at the end to make sure the end turns at the right rate.
We donated this one to the boy scout club but we will be also offering them for sell at our store. If you are interested in purchasing one send us an email. (charitable organizations receive a 15% discount)
If You would like more information on Samaritians Purse and Operation Christmas Child here is the link for that:
Check out more of the Carpenter's adventures:
How to make a French Style Rolling Pin

Thanks for following us on our crazy adventure,
The Frabjus Lady and The Screwy Carpenter