Update: 09/21/2018 This sale was a quick fast success and has been closed out.
WE LOVE CRIBBAGE
Playing Cribbage has been a love of many since the 17th century…
It's the perfect summer game! It keeps those basic math skills strong, it is compact and travels well, and it is a fun mix of strategy and chance.
When we began making Cribbage Boards we started with a side storage for pegs. The storage works well but after much consideration we decided that all boards would have an underside storage. This change gives consistency for manufacturing and we just like the look. Due to the manufacturing changes we have decided to reduce the price of the side peg boards.
Here is your chance…
Get a beautiful maple standard cribbage board for only 
$15 
plus shipping and handling.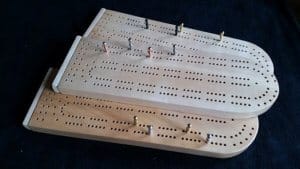 This is a wonderful deal and only lasts until supplies lasts.
You can order HERE.
Want something special for that game lover in your life? We also have customized boards and stadium boards for the sports lover.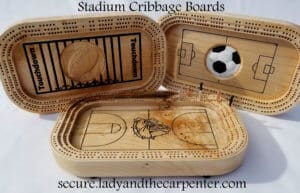 Happy Playing!
Click HERE to see more handcrafted toys by