Fermented Chives: How to use Chives
As many of you know I have decided to try out some fermenting. Since I am all about using the abundance around me I decided chives would be the next on my list. I have this amazing chive plant that gives an abundance of chives. I also found a recipe for fermented chives in my Fermenting Vegetables book by Kirsten Shockey.
Since, I have LOTS of chives and I really want to start integrating more fermented foods into our diet for their natural probiotic benefits. This is a perfect solution.
Fermented Chives are my favorite way to preserve chives. I love that after fermentation their flavor become mellow and more rounded, with a tad of sour is a bit sweet.  They are amazingly fabulous in mashed potatoes.
Harvesting Chives
Chives are an absolutely WONDERFUL herb because they are easy to harvest, they grow back for several harvesting opportunities through the summer, and they are easily preserved for later use. For those wondering, those pretty purple flowers are also eatable. Many people love to infuse vinegar with the purple flowers. I like to place the flowres in a vase on my counter.
Cutting you chive plants back to about 2-3 inches above soil level will make your plant love you. The cut leaves will continue to grow and a new batch of bright green leaves will also emerge. They grow rather quickly.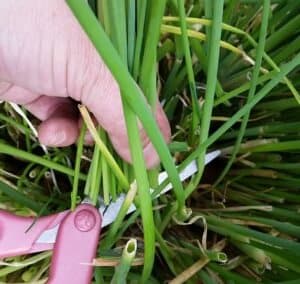 Usually I cut off chives in sections and then I always have a bundle of fresh chives in the fridge, but this year the plant kind of got away from me so it needed a full trimming. That means I had a ridiculous amount of chives.
See, I got a a crazy amount of chives at harvest. Time to get creative.
How to use Chives
Chives are great in soups, baked potatoes, scrambled eggs, fried rice, salads, egg salad sandwiches, vegetable stocks, soups, creamy sauces, potato dishes and omelettes. If a recipe calls for parsley I will often use chives instead. They have a earthy, light onion flavor that compliments many savory dishes. Chives are a great garnish for soups, and meat dishes. Mix some fresh or fermented chives into cream cheese or butter for a yummy spread for toast or bagels (another favorite of mine).
When cooking with chives, add fermented or fresh chives to the dish just before serving or toward the end of the cooking time so they keeps its bright flavor. Frozen chives can be substituted in dishes where the herb is mixed in at the end of the cooking time.
I had this huge bundle of chives. It was a bit overwhelming, but I was determined to not let them go to waste.
What to do with an Abundance of Chives:
Fermented Chives: This was my first goal. I wanted to try something new in my fermenting adventure. Oh and it was worth it. They are very tasty. (This coming from the girl who is not very food brave)
Share: I love to share our excess produce. I shared about 3 large bundles of chives with friends.
Freeze: I froze 2 quarts of chopped chives. They freeze great! I can use these throughout the winter when the chive plant is resting. I simply fill the jar and freeze them. No blanching is needed and they easily come apart when you need them. I used to spread them out on a cookie sheet after chopping them, froze them and then put in jars but I realized it was not necessary and was a pain since they thaw so quickly.
Fresh in fridge: Save some for the coming weeks. I put them in a gallon baggy with a paper towel and they stay good for several weeks. I also pre-chopped half of those for easy use.
Dehydrate: I have dehydrated many chives in the past. This time I did not do this because I like the frozen chives more. However, all last winter I used dehydrated chives in my eggs and other recipes and they are still very good. They just need to be placed in a dish a little earlier than the fresh chives so they have a chance to re-hydrate a little.
Fermented Chives
I am SO excited to share this recipe. I was thrilled when I found it. This recipe is perfect for us since I already use a lot of chives and fermented chives can simply substitute in for the fresh ones I use in many recipes. I also love any opportunity to use my Vegetable Tamper.
I found a new use for my Vegetable Tamper/Kraut Pounder in the process. Usually with krauts you can just smash and mix with your hands when developing brine but I used my hand on the chives and regretted it. The oily brine they create mixed with thousands of little pieces was a mess. I quickly switched to mashing them about with the tamper. Much easier.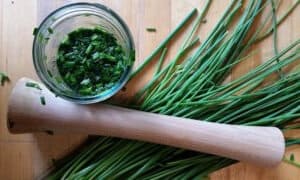 Fermented Chives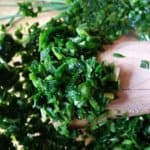 Chives are the smallest member of the onion family. They are best in the spring, but can be tough in late summer. Use any amount of chives for this recipe. I used half a pound of chives, fermented in two pint jars and got one full pint of chives after fermenting.
1/4 pound bunch chives, snipped
1/8 tsp unrefined sea salt per bunch
Finely chop the chives and add to a bowl. Sprinkle on the salt and work it in until the taste in slightly salty. Using a tamper, press the chives. Let stand for 10 minutes and then press again. Adjust salt to taste.
The chives will create brine; however, the chopped chives will bunch and stick together and the brine will float on the outside. This is hard to visualize but you will understand when it happens. The chives will feel like they have a oily layer.
Press the chives into a pint jar using a vegetable tamper. Top the ferment with a ziplock bag, pressing it down into the ferment, then fill it with water and seal.
Set aside in a cool spot for 7-14 days. Check periodically that the chives are submerged, pressing if needed to bring the brine to the surface, and scooping out any mold. Start testing in a week. It will have a slight sour flavor and will be very deep, dark green when ready.
To store, pack tightly in a jar and fill to the rim; tighten the lid, then store in the fridge for up to 8 months.
Adapted From Fermented Vegetables by Kirsten Shockey and Christopher Shockey
Check out our other fermenting posts. 
Fermenting Food Adventure Begins and Fermenting Book Review
Homemade Apple Cider Vinegar: Fermenting