I am part of a MOPS (Mothers of Preschoolers) group. We have an amazing group of people that watch the kiddos during our meetings. I love this group of people and wanted to do something special for them.
For one of our MOPS crafts we made some glitter filled clear glass ornaments. I made sure I ordered enough to make some ornaments for our MOPPETS workers. (I ordered them from save-on-crafts.com)
This is what we created: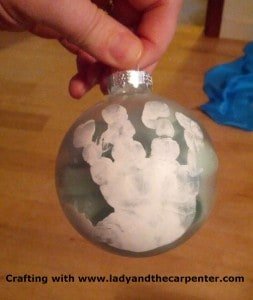 On the front is a paint hand print.
On the back I wrote with a paint pen "Treasuring the Little Things". You could of course replace this with a different phrase.
On the inside are the first names of all the kids in the childcare program.
Making these were so much fun. Here are the steps we took to make them.
1)Hand Prints: One of the ladies in our group has a little one that has a good disposition. They came over so we could add painted hands to our ornaments.
While she put paint on hands and opened his hands at the right time, I put the ornaments on his hand. This sounds simple right? I wouldn't say simple but it was highly entertaining. Over all it went well and baby stayed happy.
I only fixed a few with a q-tip. A couple had to be completely cleaned off and redone.  We used craft paint (non-toxic).
2) After they were dried I covered the area with clear coat spray. If you don't cover the paint with clear coat the print will come off easily with water.
 3) Next, I added the names. The names were printed on colored paper and then cut into strips.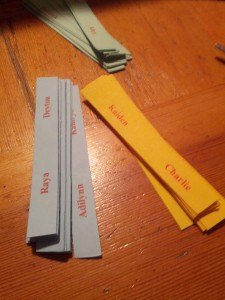 I curled the strips onto a pencil and added them to the ornaments one at a time.
4) On the back of the ornament, with a paint pen I wrote "Treasuring the Little Things"
5) Add a ribbon for hanging.
When we handed out the ornaments we let each teacher know that each kids name was in the ornament and that we deeply treasured the time and love that they poured into our little ones lives.
A couple got tears in their eyes. It was wonderful to do something that made them feel loved.
This was a perfect teacher appreciation craft.
Come Check out our other Crafting tutorials: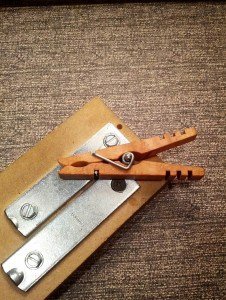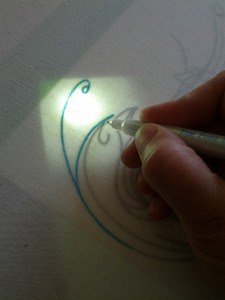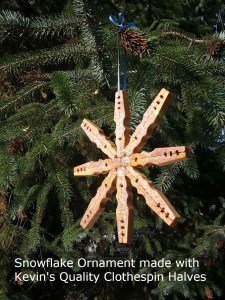 Happy Crafting,
The Frabjus Lady