The story started six months ago. I got the hare brained idea to buy a classic pickup truck for my daily driver. We were told that it was a strong runner. He was right, it ran strong until we were almost home… Then it died.
As I am writing this it is still in the barn unable to move on its own power.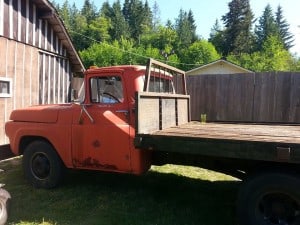 So how do clothespins fit with the truck you ask?
Let me explain, I desperately wanted to fix the truck immediately, but June is in the middle of summer. Lots of people are outside camping , doing laundry at home and all of the other things that they do with clothespins. We sell a lot of clothespins in the summer time.  To complicate it further I only have one barn.
When I am making clothespins sawdust gets everywhere! We gather it into huge piles and give it to several chicken owners that love to use it for bedding. So they haul it out in truckloads.
When I am working on the truck, parts are everywhere with grease and oil and dirt. Sawdust and mechanical work just do not mix.  Having sawdust inside of an engine is a bad idea.  I tried for a while to do clothespins then switch and do truck repairs then switch back. That did not go very well.
So I stopped the truck repairs and went crazy making clothespins.
I mean absolutely crazy making clothespins. So after…500 Maple boards, several truck loads of sawdust, all the garden paths covered and several happy chicken owners…We have CLOTHESPINS!!
They are in the barn…
They are in the laundry room…(ready to oil)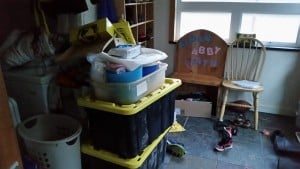 They are in the living room…(drying)
They are in the dining room…(being assembled)
This is our friend Ron. He showed up to say hi and got sucked into making clothespins with The Frabjus Lady.
They are in the kitchen…(Ready to go out to customers)
My plan worked!  I have had the last six weeks to fix the truck and I am almost done. Hopefully by the end of this week it will be moving under its own power. (I will be bringing a more detailed story of the truck later after we reach success.)
While I am turning wrenches, The Lady is busy oiling, sorting, assembling and packaging clothespins. Needless to say we are not running out of inventory for some time.
Thankfully I can see the light at the end of the tunnel with the truck. I am sure that The Lady would love help digging out of the pile…
Stay tuned for how this story ends….