Maple Cutting Boards and a Lovely Garden.
First real quick I would like to show off the new product we introduced this last month.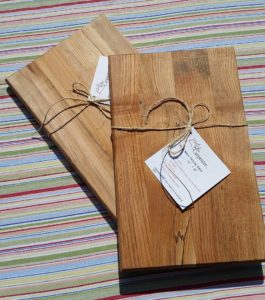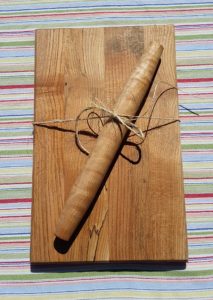 These beautiful 10 in x 16″ Maple Cutting Boards were a hit at the Mother Earth News Fair in Albany, OR. Everyone wanted to touch the beautiful wood grains in the cutting boards. Like all of our wood products they are made of solid maple and each board has a unique wood pattern. You can find them HERE at our store. We also just added our small cutting board!

On to the Garden. YA! I LOVE my garden!
"Mommy's Happy Place"
Our garden has been named "Mommy's Happy Place". There is one important rule: In Mommy's Happy Place there is No fighting of whining or disturbing Mommy's calm. The kids know if they disturb the calm they get kicked out to go make a ruckus elsewhere. I love the green around me and since I have kids weed when they enter they usually just go play and leave me in peace. Every once in a while they long for that calm as well and we have a wonderful time together. There are only a few times in the year I "make" them weed with me otherwise I am good with doing it myself.
Just a Note:… I do not have a beautifully manicured garden. I do not obsess about the weeds in the walkways because it is next to a field, so why fight them? I just try to keep them out of the established beds where veggies grow. We also lay down a lot of wood shavings in the paths for weed control… but it is growing food and beautiful things and that is what really matters.
Late Spring gardening is always my favorite. The seeds have gone in and little plants have poked out of the soil. I am never quite confident that those little seeds will become plants. So, when they pop up I rejoice!
We have some seeds that have not popped up but for the most part they have. Above you can see little lettuces and by them are some tiny carrots. Here are the sugar snap peas:
 I grow the peas and the pole beans on a trellis. To see how we grow Green Beans Visit HERE. So excited about them this year because I think I bought the wrong variety last year. Last year's peas ended up being only a couple feet high gave me only a few peas. As you can see this year we have the ones I was hoping for. They are happily growing and I have some peas forming.
Okay, my garden is crazy big. I started gardening about 4 years ago with a little plot. You know you have an obsession when the square footage of the garden has become more than the square footage of the house… I am hoping to get plenty of produce to eat, preserve and to share.
So, What's all in there?
This is the Left Side of the Garden (From front to back): Parsley (from last year that I am letting go to seed), basil, indeterminate yellow pear tomatoes on trellis, marigolds and nasturtiums for bug control, comfrey, Raspberries, a green bean trellis is  barely visible in back.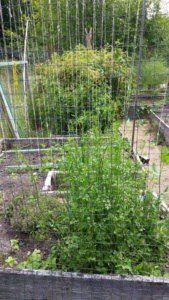 Center of the Garden (Front to back) Green beans,  row of nasturtiums, cucumbers with dill, chives with lettuce, kohlrabi and carrots, Asparagus with parsley.
Right Side of the Garden (Front to back) Sugar Snap Peas, Strawberries, Green beans with cabbage, sage, and hopefully spinach.
The corn field with pumpkins and volunteer potato plants that I decided to leave. Bean trellis in back.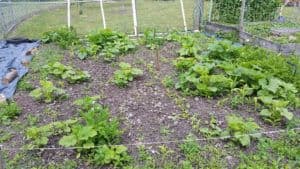 The Potato "Experiment"
Right now there are plants coming out of the sides of the tower and in the beds. I am planing on creating a YouTube video at the end of the season to show what kind of success we have.
Across the back (This is where it looks quite weedy. The plan is to create more raised beds here)  is a couple long mounds with cucumber, dill and nasturtium. In the buckets are all tomatoes. You can also see that Green Bean Trellis that is behind the Raspberries.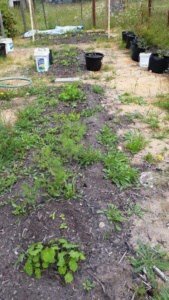 WOW! To list all that sounds overwhelming. All except the spinach seems to be doing okay. We have had several rainy days so if we have some sunny days everything should take off. Loving the ripening raspberries and really loving watching it all grow.
Finally got the dog to stay out of the mint patch by the kitchen (there were some garter snakes in there). So, it is now flourishing. We also harvested currants from our bush this week. The littlest one loves them so I will attempt to make some Currant Jelly.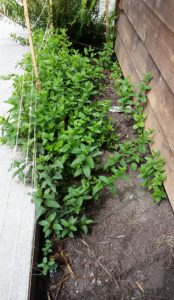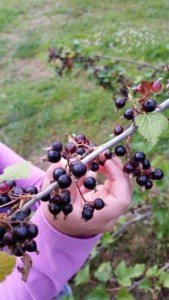 Hope all is going WONDERFUL in your garden. I would love to hear about your garden in the comments. If you have any questions also comment below.
Happy Gardening,
The Frabjus Lady